PISTOL PETE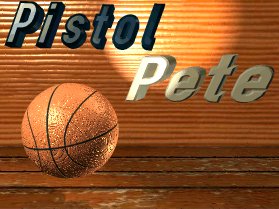 THE HOMEPAGE
Born: June 22, 1947 in Aliquippa, Pa. Died: January 5, 1988 Elected to Hall of Fame in 1987 I made this page because I feel there should be a page honoring one of the greatest basketball players the game ever knew. Through endless attempts of trying to find pictures or any other material of his life I was disappointed. Here is some of the information and links I have found from various places on the net.
It happened so suddenly. One minute he was enjoying playing basketball, telling a friend he felt great. The next, he was sprawled on the floor, his body con vulsing in a seizure. An ambulance whisked him to the hospital where doctors tried for fifty mi nutes to revive him. It was all in vain; Peter Press Maravich, known to the world as "Pistol Pete," slipped into eternity at 9:42 a.m. on January 5, 1988 at the age of 40.
Noted for his mop of brown hair and floppy gray socks, Maravich scored more points in college than any other player in history. In only three years playing for his father Press at LSU, Maravich scored 3,667 points -- 1,138 points in 1968, 1,148 points in 1969 and 1,381 points in 1970 while averaging 43.8, 44.2 and 44.5 points per game. In the process, "Pistol Pete" set numerous NCAA, SEC and school records and was named a three-time All-America. In his collegiate career, the 6-5 guard a veraged an incredible 44.2 ppg in 83 contests and led the NCAA in scoring three times. He also set an NCAA record by scoring more than 50 points 28 times. The 1970 College Player of the Year was selected third overall in the NBA draft by the Atlanta Haw ks and wasted little time becoming a prime-time player by averaging 23.2 ppg his rookie season. After spending four seasons in Atlanta, Maravich was traded to the New Orleans Jazz where he peaked as an NBA showman and superstar. He made the All-NBA First Team in 1976 and '77 and the All-NBA Second Team in 1973 and '78. He led the NBA in scoring in 1977 with a personal high 31.1 ppg. Maravich finished his career with the Utah Jazz and the Boston Celtics in 1980. In ten NBA seasons, Maravich scored 15,948 p oints in 658 games for a 24.2 ppg average. His NBA single game high, a 68-point explosion, came against the New York Knicks on February 25, 1977.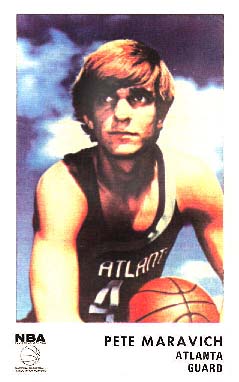 ---
CAREER STATISTICS:
| | | | | | | | | | | |
| --- | --- | --- | --- | --- | --- | --- | --- | --- | --- | --- |
| G | Min | FG% | 3P% | FT% | RPG | APG | Stl | Blk | Pts | PPG |
| 658 | 24316 | .441 | .667 | .820 | 4.2 | 5.4 | 587 | 108 | 15948 | 24.2 |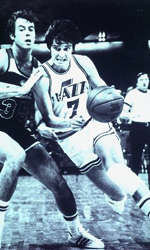 ---
Pete was beloved by many, yet understood by few. He was a legend in his own time, one of the greatest basketball players who ever lived, and probably the most colorful. The news of his sudden death sent shock waves from coast to coast and brought back an avalanche of memories to his many admirers, of whom I was chief. Few, if any, ever inspired me as he did. Pete left a deep and lasting impression on me because of his commitment to excellence, his incredible intensity, and his perseverance in the face of constant criticism and nagging problems.
The Amazing String Bean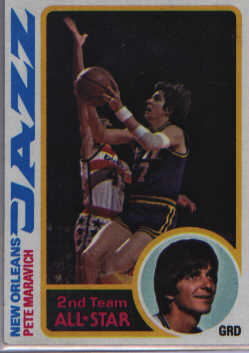 I still vividly remember the first time I saw Pistol Pete play in person(i got this from a dif. page. i am really 15!. I can see him now. It was March of 1968. The coliseum at Vanderbilt in Nashville, Tennessee was pac ked to capacity. During the warm up, I observed Maravich's 6'5" 170-pound frame, which resembled a cross between a clarinet and a string bean, and I wondered if he could possibly live up to his lofty reputation. I chuckled at the floppy socks that had sli d to the bottom of his spindly legs. And of course, there was his mop of shaggy hair.
But from the opening tip-off, the sophomore sensation from LSU quickly impressed me with his behind-the-back dribbling, his long, feathery jump shots, and that amazing between-the-legs passing that often caught his own teammates off guard. By the time the final buzzer sounded, he had poured in a torrent of 44 points, his average--all in a losing effort!
While I was attending the University of Missouri, I read about Pete in the newspaper. He had just become the top scorer in the history of college basketball and a three-time All-American. Then he climaxed a brilliant amateur career by being selected Pl ayer of the Year in 1970.
In the pros, Pete soared to new heights. He led the league in scoring in 1977 with a 31.1 average. His career spanned ten years, primarily with Atlanta and New Orleans, during which he became a four-time all star and averaged 24.2 points per game. His highest point total for one game was 68, but without a strong supporting cast it was difficult to win a title. The elusieness of a championship disturbed him deeply.
A Misunderstood Genius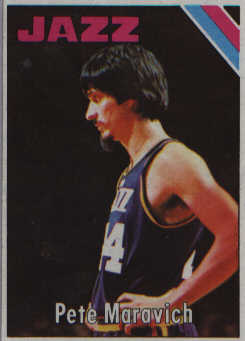 Criticism began to mount. Many thought he was a loser and questioned why he could not win at least one championship. Pete was tormented. No matter what he did, or how hard he played, people just didn't understand this genius in sneakers. Though Pete pl ayed with a flair and intensity never before seen, to his critics--and especially to himself--he was never good enough.
Meanwhile, his life seemed to be falling apart. His mother committed suicide, for which he felt responsible. His social drinking became more frequent and intense. Worst of all, Pete had no inner peace. Maybe a championship was all that was necessary. B ut season after season passed, and no championship.
At last he had the opportunity to win that coveted crown. He was traded to Boston in 1980 for his final season. His mind knew exactly what to do, but his tired body refused to cooperate. For once, the Celtics didn't win the title, and Pistol Pete was f inished at 33.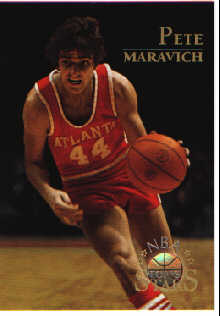 ---